Pilgrimage tourism is the oldest form of tourism in the world! Within this religious tour Travel Agency AVE Tours will take you to sacred places – monasteries whose spirituality and peacefulness are as captivating as their magnificent architecture.
Situated in a natural cave within an almost vertical rock at an altitude of 900 meters above sea level monastery Ostrog seems so surreal, as if it were not the work of men. This sacred place is visited by religious people from all around the world and of various religions who come here to pray and pay respect to Saint Basil's sacred relics. Monastery Ostrog is the third most visited sacred place in Christianity, Christ's grave in Jerusalem and Holy Mountain in Greece preceding it.
After the period of socialism in Montenegro, many monasteries were renovated and among them was monastery Dajbabe which was built inside of a cross shaped rock.
Within this religious tour through Montenegro female monastery Ždrebaonik will be visited too, as well as the biggest cathedral in the smallest Balkan state.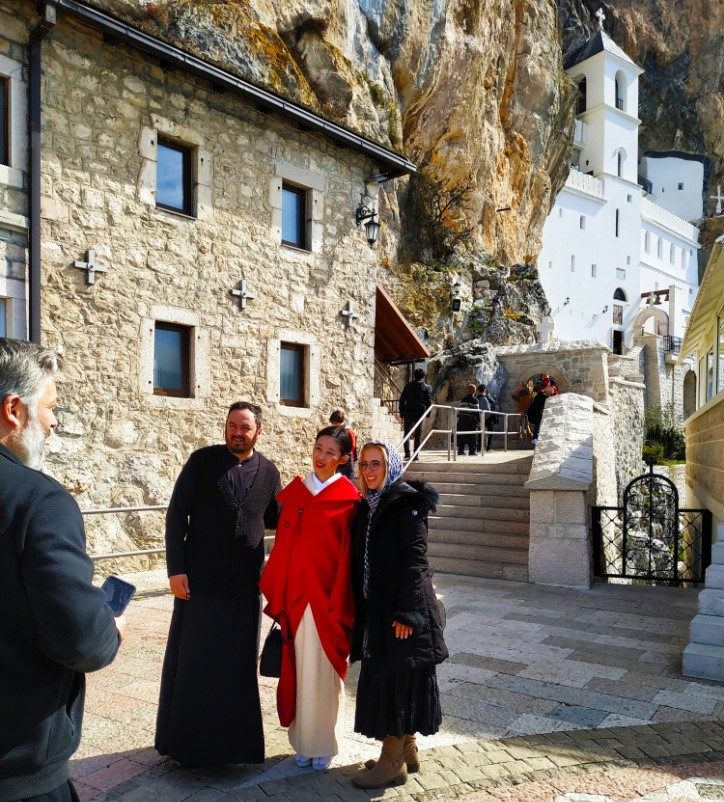 The tour starts with the meeting of the group at the previously specified location from which we depart for Podgorica, the capital city of Montenegro. In Podgorica, we will visit Cathedral of the Resurrection of Christ, the biggest cathedral in Montenegro. Nearly two decades were needed to build this magnificent cathedral. Internal decoration of the cathedral was painted with original fresco technique which has not been used in this region for the last 800 years. The frescoes depict Christian tradition which began at the Holy City Jerusalem and spread across this region as well.
They cover 6200 square meters and represent a fresco masterpiece. The cathedral is also decorated with stone sculptures, stone and wood reliefs, and mosaics.
Approximately 1960 square meters of this cathedral represent the biggest mosaic covered surface in Montenegro. Beside the floor mosaic, this technique was used to decorate the entrance of the cathedral. This mosaic is dominated by the scene of Christ's resurrection to which this cathedral is dedicated.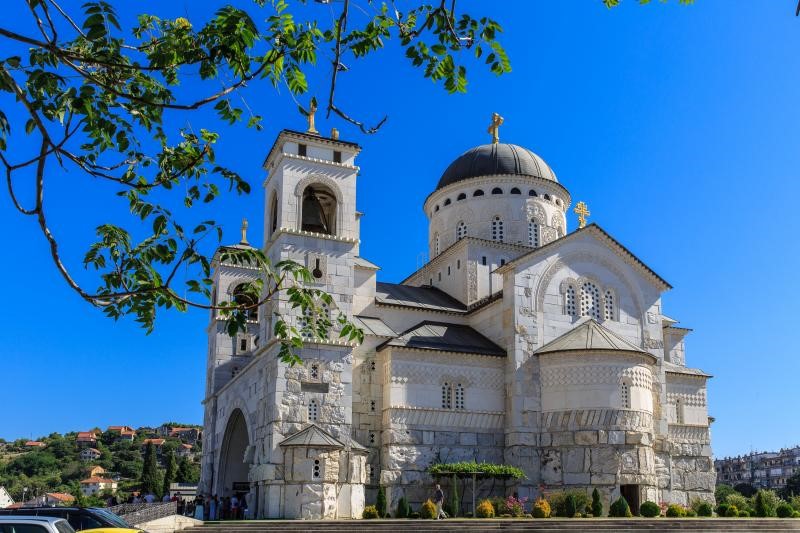 Cathedral of the Resurrection of Christ
Monastery Ždrebaonik, oasis of peace and serenity, is located midst the docile Bjelopavlić plains near Danilovgrad. Although there is no precise information, it is assumed to be built at the end of the 16th century and at the beginning of 17th. During the turbulent history of Montenegro, this monastery has been destroyed and desolated several times.
The monastery church is dedicated to Archangel Michael. Sacred relics of Saint Arsenije Sremac, who was the first bishop after Saint Sava, rest at this holy place, after 166 years of switching its place from cathedral to cathedral. Ždrebaonik has been a female monastery since 1991 where a dozen of nuns and their mother superior live, take care of the monastery and depict iconography. Diligent nuns gather wild herbs that grow around the monastery and they make healing balms, teas and tinctures. Nuns say that the praying atmosphere in which they are made give special characteristics to the products.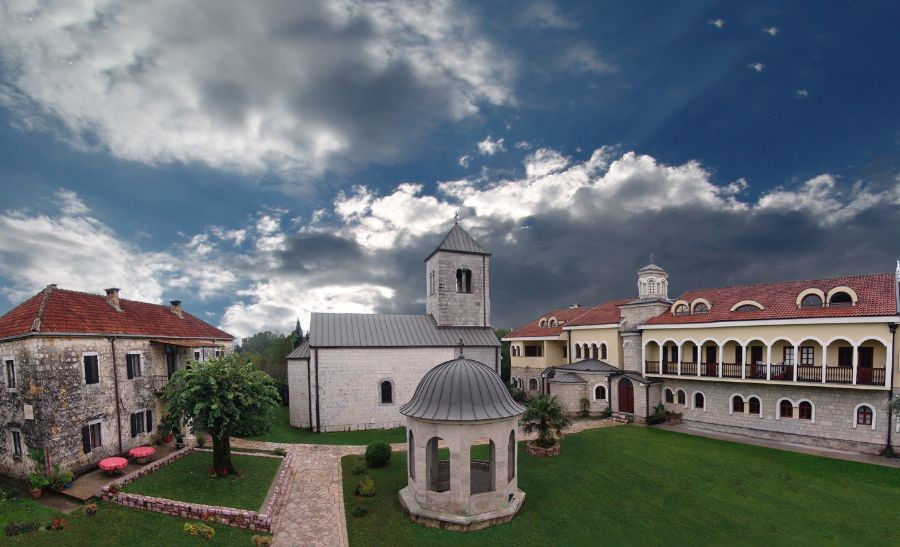 Monastery Ostrog, the biggest sacred place in Montenegro and the Balkans, was founded by Saint Basil of Ostrog in 17th century during the period which was not beneficial for people and church. In search for peace and serenity Saint Basil had found the place where he had spent most of his life devoted to Jesus Christ below a large rock Ostroška Greda in an unapproachable cave. According to a legend, when his body was found, 7 years after his death, it was well preserved and smelled like basil.
Religious people who visit this sacred place testify of Saint Basil's numerous miracles. Among his miracles is the vine whose fruits can cure infertility that grew out of the stone at the place where Saint Basil rests.
Religious people from all around the world and of various religions come to pay respect to Saint Basil's sacred relics.
The word "ostrog"  comes from old-Slavic "ostrog"- which means fortification, fortified place.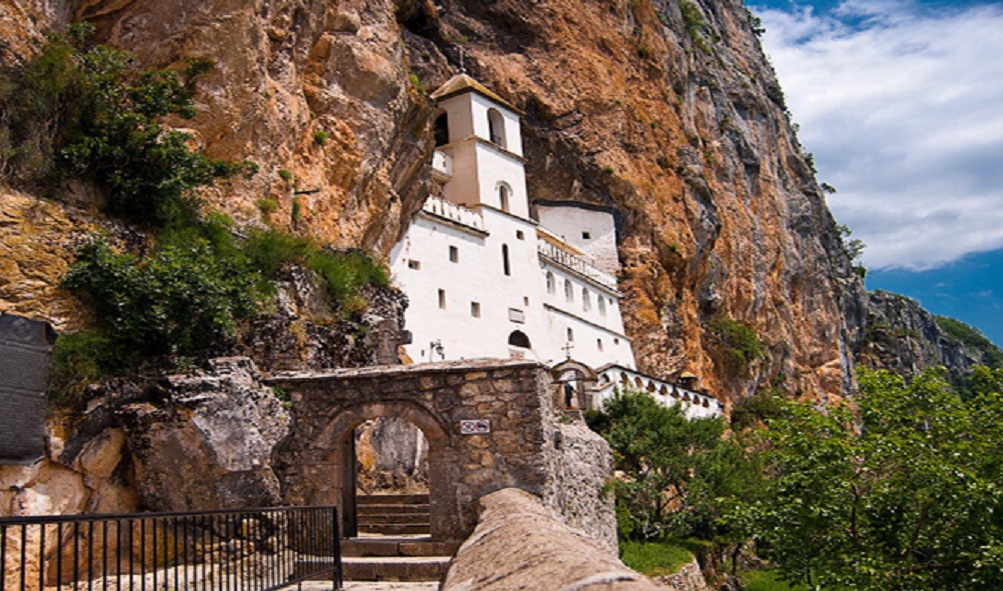 Monastery Dajbabe is located at the bottom of Dajbabe hill, hidden from the world. It belongs to the cave type of monastery. The monastery is cross shaped and it was Saint Simeon Dajbabski's home for 45 years.
 While fasting and praying, Simeon Dajbabski dedicated his life to painting this extraordinary monastery. He used to call it "the underground home of the queen of heaven". "Underground" because it is located under the ground, and "of the queen of heaven" because it is dedicated to the Ascension of Holy Mother of God. When you walk through the low monastery door, you would think to yourself: "I have never seen anything like this!"
The sacred relics of Saint Simeon Dajbabski, who was pronounced a saint 55 years after his death, rest in this monastery.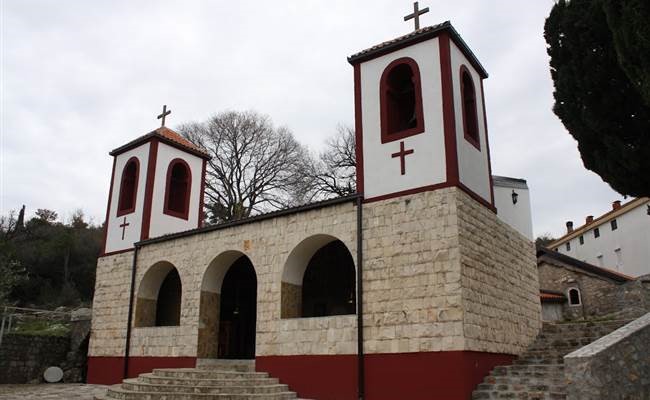 Visit the Sacred Places of Montenegro, Three Monasteries and the Biggest Temple in a Day
SCHEDULE
1. The meeting of the group at the previously specified location in Bar and departure for Podgorica.
2. Visiting The Cathedral of the Resurrection of Christ.
3. Journey continues towards Danilovgrad.
4. Visiting monastery Ždrebaonik.
5. Journey continues towards monastery Ostrog.
6. Visiting monastery Ostrog.
7. Free time and lunch break at Bogetići.
8. Journey continues.
9. Visiting monastery Dajbabe.
10. Return to Bar.
11. The end of the tour.
The excursion lasts about 10 hours
Check the price list for private tours
1 person       1  x  150€     =  150€
2 persons     2  x     80€     = 160€
3 persons     3  x     75€     = 225€
4 persons     4  x     60€     = 240€
5 persons     5  x     50€     = 250€
6 persons     6  x     40€     = 240€
7 persons     7  x     35€     = 245€
35€ per person
In order to realize this (group) excursion, minimum 6 people need to apply.
Costs included in the price
Transport by bus, van or high-class tourist bus
Licensed tourist guide speaking the group's preferred language
Taxes and tickets
Transport from the Lower to the Upper monastery Ostrog
Organization expenses
The price does not include
Food and beverage during the tour
Individual expenses